Haomei has over 15 years experience on offer prime quality 1070 aluminum slug for gas cylinders and aerosol cans. The gas cylinders is a gas-tight packaging container, the tank is required to withstand a certain internal pressure, and is generally made of aluminium slugs. The aluminum slugs can also used for processing tubes for beverage and cosmetics. The packaging industry to develop aluminum gas cylinders after an aluminum slug is extruded.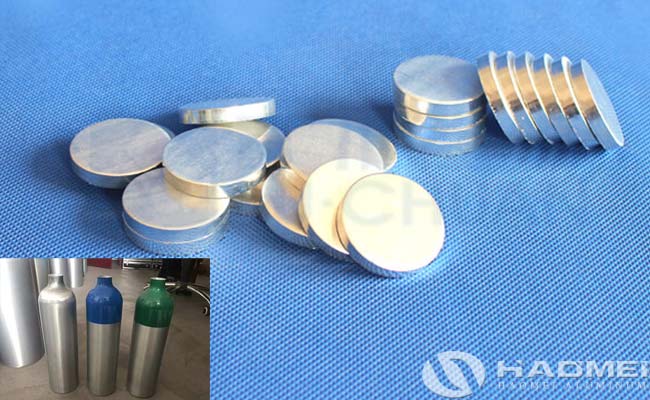 Aluminum alloy gas cylinders can be refilled with rare gases, standard gases, high purity gases, specialty gases, etc. They have good performance, safe and reliable, stable gas purity. For the ductile metal of aluminum slugs, the cold working process of stamping is adopted. The aluminum gas cylinders is stamped from an aluminum slug. Therefore, its entire shape has only one stamping process. The stability of the gas cylinders is good. At the same time, this material of aluminum also makes it ultra-light weight.
1070 aluminum slug for gas cylinders provided by Haomei has 99.7% aluminum purity, the total cost is low and has good performance. The aluminum gas cylinders processed by aluminium slugs contains compressed gas, high-pressure liquefied gas, and is widely used in industrial, anaesthetic, life-saving, beverage preparation, and storage of high-purity gases. It has a unique advantage: the weight is only 40'1 of the steel cylinder; it has high corrosion resistance due to the oxide film; it is non-magnetic.