Haomei is a professional aluminium slug for collapsible tube supplier in China, our aluminum slugs 1070 product won good reputation on world market. Collapsible tube made of 1070 aluminium slugs has 99.7% purity and can be used for cosmetic, tooth-pipe, pharmaceutical and food packaging. The diameter processable range is 6mm-220mm, and the thickness processable range is 2mm-25mm.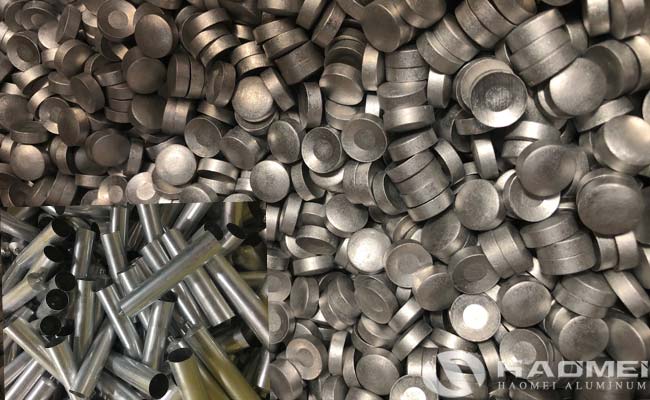 The aluminium collapsible tube is stamped and formed from aluminum slugs at one time, there is no need to connect the tube shoulder and the tube body, and there is no potential quality risk such as the injection skew, the inner layer and the secondary layer peeling, and the weld seam separation. Aluminium slug for collapsible tube material does not rust, its oxide is non-toxic, it has good light-shielding property, excellent moisture and gas barrier properties, good processing performance, no resilience, high thermal conductivity, good ductility and sealing, and sufficient protection performance of internal decoration. Therefore, aluminum is the most commonly used metal in collapsible tube packaging materials.
In addition, the aluminum collapsible tube is simple in manufacturing process, is not easily broken, and has functions such as ease of use, storage, transportation, environmental protection, durability, aesthetics and easy identification. The aluminium slug for collapsible tube supplier will produce high quality aluminum slugs for processing aluminum collapsible tube with internal spraying is not easy to react with the contents, does not change the performance of packaged goods, so it is favored by the majority of brands!